In December 2015 we're launching a new product: the "B2B Website Content Guide". It's a manual in digital format that helps marketers and people tasked with content creation to quickly and easily write the content required for a high-quality B2B website.
The B2B Website Content Guide is a DIY (do-it-yourself) handbook that makes content creation easy and fast because it shows you what to write about. It consists of a series of questions you need to answer. Your answers become your content.
Which Problem Does the Guide Solve?
Our company Logit spent its first decade in business developing and designing websites. We realized that the biggest issue with launching new websites wasn't development or design. The biggest issue was our clients' (in)ability to create and deliver content on time.
We created this guide as a solution to that problem: to make it easy for B2B companies to create the content.
At first, we used the Guide on client projects. For example, we used it to create marketing literature for ITD from scratch - in only two weeks. The Guide has helped us to considerably reduce the time it takes to create content because all the questions we had to ask the client to extract content from them were in the Guide. We finished the project ahead of schedule.
Now we want to help other B2B marketers by publishing our content creation process in the form of this handy manual.
The Best Time to Use the B2B Website Content Guide
If you don't know which content you should create for your B2B website, use this Guide before you hire a web development and design agency. An agency will request you deliver content upfront anyway. By gathering and neatly organizing all your content before you talk to an agency, you're making sure your website is finished faster, within budget, on time, and with fewer mistakes.
Table of Contents
We would love to hear your thoughts and commentaries about the following contents of the Guide, so feel free to contact us. The Guide is being finished as we speak and there's still time to implement your suggestions.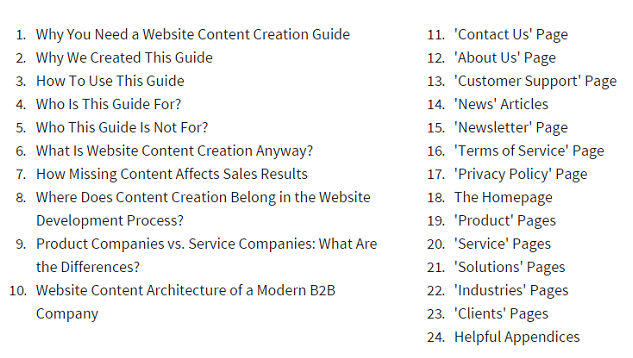 Contents of the Downloadable Package
The Guide is not just one file, it's a package of several digital assets. The downloadable package includes:
70+ pages of editable Microsoft Word .docx file format:

with questions you need to answer
with tables and forms you need to fill out

a website map template with 13 essential content sections of a modern B2B website
a folder structure to organize your texts, images, and media
The guide will be available soon (December 2015). Leave your email and get notified when the guide is ready (expect a generous early-bird discount).