We have a new feature on logit.hr: email tips for improving your B2B website.
Subscribe to Receive Free Tips

(Unsubscribe any time)
If you subscribe, every 2 weeks or so you will receive 1 actionable website improvement tip in your inbox. 
These short tips will teach you:
what you could improve on your B2B website
why you should implement the tip (how it improves your business)
how to implement the tip (step-by-step)
Every tip is backed by proof, which means there's actual research and evidence that these tips work. We scour the web for third-party expert research and also conduct our own research to learn about reliable evidence we base our tips on.
Sample tip
Take a look at one sample tip to see what you can expect in your inbox: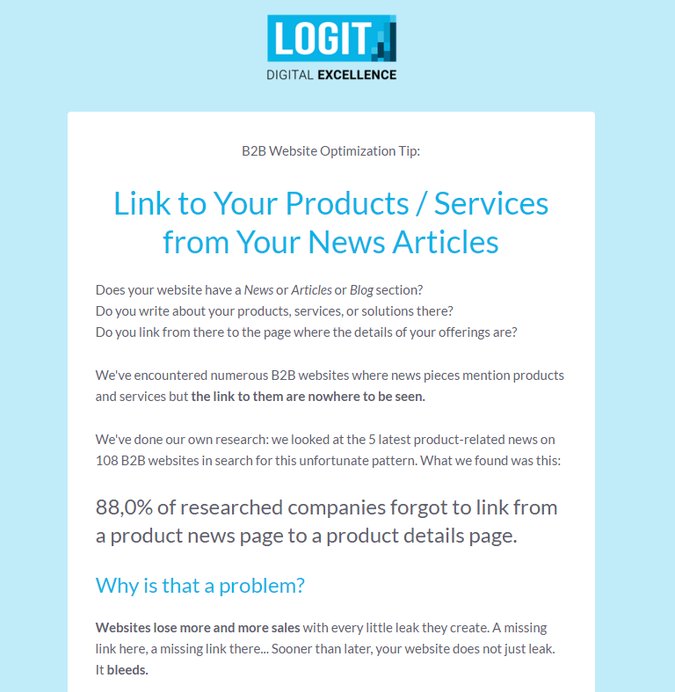 To receive these tips, subscribe for free and the first one will be in your inbox immediately. It doesn't cost you anything and you can unsubscribe any time if you change your mind.
Subscribe to Receive Free Tips

(Unsubscribe any time)
How Will Website Improvement Tips Help You?
Website improvement is a continuous process consisting of hundreds of small, usually simple changes which all aim to make a website more profitable. Every piece of website content and every website feature has a certain positive or negative effect on a buyer.
Years of experience in creating client websites has taught us what a successful B2B website should look like.
Every tip you'll receive is one of those small pieces that will help you improve your B2B website. 
Your improved website will have a positive impact on your business:
fewer potential customers will leave your website
more website visitors will convert to future paying customers 
Don't have time to learn about website improvement yourself?
We're writing our tips for people responsible for marketing and sales results. Usually it's the CEOs of small businesses or people working in marketing and sales departments who would gain the most benefit from website improvement tips.
We understand that you might be too busy to learn the craft of website improvement yourself. Maybe you're attending an important event soon, or planning an important sales & marketing campaign for which you want to be your best online.
In that case you may need our help.
If you want to have your website improved immediately, you can request one of our . Senior website improvement specialists will analyze your online presence and create a personalized report of dozens of elements we recommend should be changed on your website.