We sell digital templates, worksheets and guides that help B2B companies write content for their websites. We just switched to a better gateway that processes credit card and Paypal payments for our products.
What Is Gumroad?
Gumroad is a service / payment gateway that lets us sell digital products online, receive credit card and Paypal payments from international customers, and instantly deliver our digital products as downloads to customers, within seconds after their payment is processed by Gumroad.
Starting in March 2019, our customers will be able to buy our digital templates for writing B2B website content through gumroad.com. Gumroad is in many ways better for us and for our customers compared to Sendowl, a processor we've been using so far. Here are the most important highlights. 
Better Support for Credit Card Payments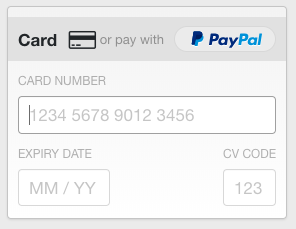 Pay with MasterCard, Visa, AMEX, Diner's, Discover - without having to register for a Paypal account first. 
(Our old payment processor was dependent on Paypal's interface for credit card processing, and Paypal was forcing customers to register for a Paypal account first to get access to credit card payment. Not elegant, and probably costed us many lost transactions). 
Does Gumroad Support Paypal? YES.
Simply log into your Paypal account and buy as you normally would. 
Generate an Invoice for Your Business
After your purchase, Gumroad will send you a receipt in which there's an option to generate an invoice: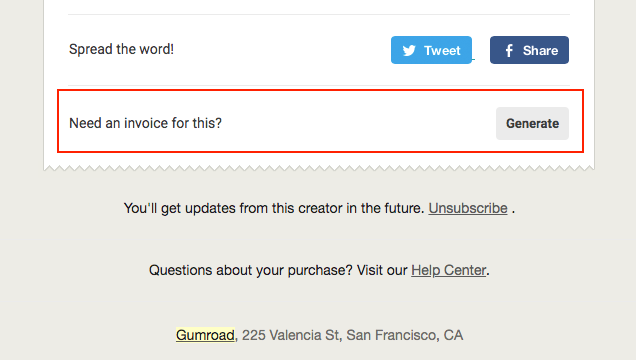 When you click "Generate", you'll be able to enter all the necessary data for your invoice, which you will then be able to download as a PDF: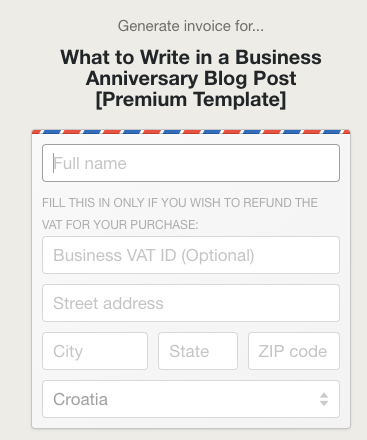 We absolutely LOVE this feature! Gumroad is an example of a US-based company doing invoicing for the rest of the world right. Instead of begging for a proper invoice to be generated and waiting for the invoice to arrive, you simply enter all the data and help yourself. 
EU-Based Businesses Can Get a VAT Refund
Just like other payment systems, Gumroad - a US-based company - is required by EU law to charge EU-based citizens their local VAT rate. The law says that businesses are tax-exempt and should not be paying VAT. 
However, Gumroad works a little bit differently here than most other payment gateways we've seen. Even if you're an EU-based business, you will still initially pay your country's VAT rate for digital goods. Luckily, you will get VAT fully refunded to your credit card / Paypal account within 2-3 days of purchase. We've personally tested this when buying from other creators on Gumroad and we can vouch that the refund will be deposited back to you.
Here are the instructions for getting a VAT refund which say that you should generate an invoice with your VAT on it (see the screenshot above).
Download the Product Immediately
This hasn't changed: once you purchase, you will be given immediate access to the files for download. The link to the products is also present in the email receipt you get after the purchase, so you never lose your purchases. 
Here's a good article on Gumroad with more instructions on how to buy on Gumroad.
If  you need help with a purchase, come talk to us. 
Check Out Our Products Now (Discounts Are Available)
Head over to Logit products if you need help with writing content for your B2B website. For the moment, there are only two premium products there, but we're working on new templates for writers.
Subscribers to our newsletter are eligible for 20% permanent discount on all purchases, so subscribe now. We only send out product-related news and updates, and we send them a couple of times a year.