B2B Website Content Guide is our new product that helps people in charge of writing content for websites write persuasive and customer-centric content, fast and easy. Here is why, when, and how to use it.
We have used B2B Website Content Guide in Logit for years and years with our web development projects and it has saved us a dozen of hours of work. It makes the process of writing content for websites much easier and faster by telling you what to write about.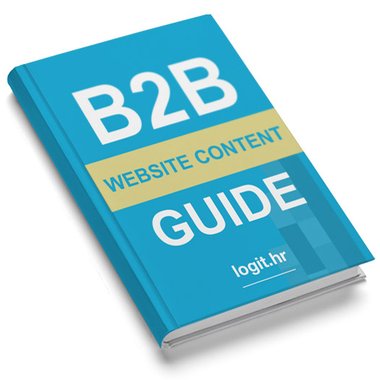 3 Reasons Why You Should Use B2B Website Content Writing Guide for Writing Your Website Content
#1 Convert more customers
Conversion is the act of turning website visitors into customers. The main purpose of (most) websites is to partake in acquiring new customers. Good website content will contribute to converting visitors to customers because influential, customer-centric content is what motivates prospects to include your company on the shortlist of preferred vendors and, ultimately, to buy from you.
Good website content informs your prospects, educates them, and leaves no questions unanswered. Prospects want to be well informed before making an important purchase decision, and this content writing guide makes sure you answer all prospect's questions.
#2 More website visitors
Website content, whether it's good or bad, can't influence readers if they don't read it. If none of your target prospects can find your website on the internet, it's like it doesn't exist.
B2B Website Improvement Guide shows you the questions that your prospects want to know. It encourages you to write all there is to write on a certain topic such as your product, your company, or your support terms. That content makes your website easier to discover on the internet.
More content means more impressions on the search engine results pages. More impressions means more website visitors and more website visitors means more leads.
#3 Building authority
Your company will be perceived as authoritative and trustworthy if your website content is informative, educational, and honest. No one likes content full of hype, empty phrases, and with minimum useful content.
B2B Website Content Guide makes sure your content is useful, factual with data and logic that supports emotional decisions, and not missing anything.
3 Situations When You Need B2B Website Content Writing Guide
#1 Before developing a new website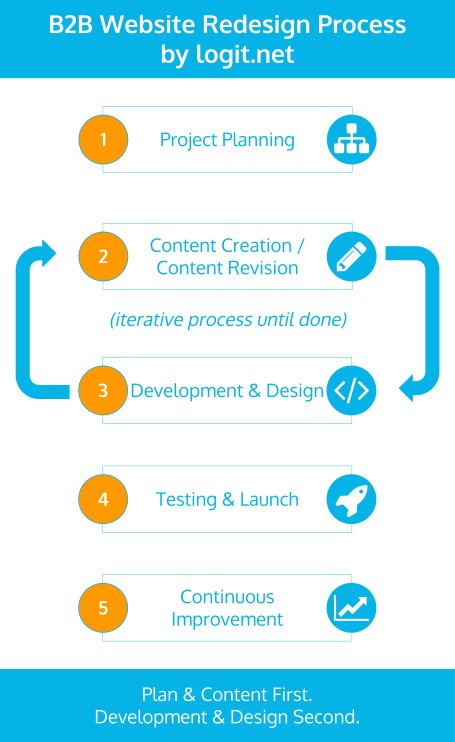 A common mistake is to hire an agency for website programming and web design first and then try fitting the content in the design later. This upside-down process almost always leads to:
website launches being delayed for months
additional expenses
frustration
project scope getting out of hand
A better website development process, called Content First approach, puts content where it belongs: after the website planning phase, but before the development and design phase.
Years of experience in website development showed us that clients have a hard time creating website content from scratch and the process can often last for months if not years.
For this exact reason, we have developed this product and used it ourselves for website content creation for years. Now we have decided to offer it on the market. Our experience tells us that this Guide saves you months of work. You will not have to think what to write about, this guide does all of it for you. All you have to do is answer the questions.
#2 Before redesigning your current website
If you have decided to improve your existing B2B website with a new look, that's great. But what's even more important than better design is better content. Content is what interests prospects the most. Your website's lead generation capabilities will be noticeably improved with great content which answers all customers' questions.
#3 Content improvement
If you've realized the importance of website content and simply want to improve it, B2B Website Content Writing Guide is a perfect way to do that. 
3 Ways of Using B2B Website Content Writing Guide
#1 Do it yourself
If you've been put in charge of writing content for your website, you can complete that task easier and faster with B2B Website Content Writing Guide.
The process of doing it yourself goes like this:
You answer all the questions and fill out all the forms from the Guide.
You gather all the media, such as images and PDF documents, and place it in the folders you received with the Guide.
You either enter the content into the website yourself or give it to your agency to do it for you.
Here's another helpful article on how to write website content more persuasively.
#2 Give the Guide to your agency
If you want to spend even less time than a couple of days on content or don't want to write it on your own, you can hire an agency.
Here's what the process looks like when you hire an agency:
 Your chosen agency interviews you, using the questions from the Guide. The interview is recorded.
The agency writes your website content based on your answers.
You collect media files such as images and PDF files.
Either you or your agency enter the content into your website.
#3 Let your employee use the Guide to interview you for content
If you want someone else to write content for the website, but you don't want to spend money on outsourcing it to an agency, you can give the Guide to an employee of yours. You're the subject matter expert on your business, but your employee has more time than you do for content writing. He or she can extract the content from you by interviewing you and recording the interviews. 
The process goes like this:
Your employee interviews you using the questions from the Guide and records the interviews.
Your employee writes website content based on your answers.
Your employee can even collect the required media files (images, downloadables).
After you approve the content, the employee enters the content on the website.
Write Great Website Content Fast with B2B Website Content Writing Guide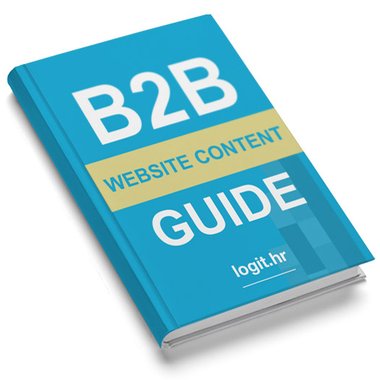 or learn more about the B2B Website Content Guide.