We're opening an entire content section on our website for sharing our knowledge and expertise: the Learning Center. It will contain educational articles, presentations, downloads on the topic of improving B2B websites for increased business results.
Please check out the Learning Center at www.logit.net/learn/ now.
Unlike this blog, where we publish company news, events, and announcements such as this one, the Learning Center will be the new home for sharing our knowledge, expertise, and original research.
To get updates when we publish new content in the Learning Center, subscribe to Logit newsletter.
Learning Center Topics
We're in the business of improving B2B websites for increased lead generation and improved business results.
Naturally, we'll publish what we're most passionate about, and where we have the most expertise:
writing website content
website architecture
website usability
digital marketing strategy
Intended Audience
We're creating content for people who want to work on improving their company websites:
marketing managers
small company CEOs
marketing department employees
The examples you'll find in our content will be from business-to-business websites exclusively, mostly in these industries:
technology companies
IT solution providers
business services companies
Features of the Learning Center
Content in Different Popular Formats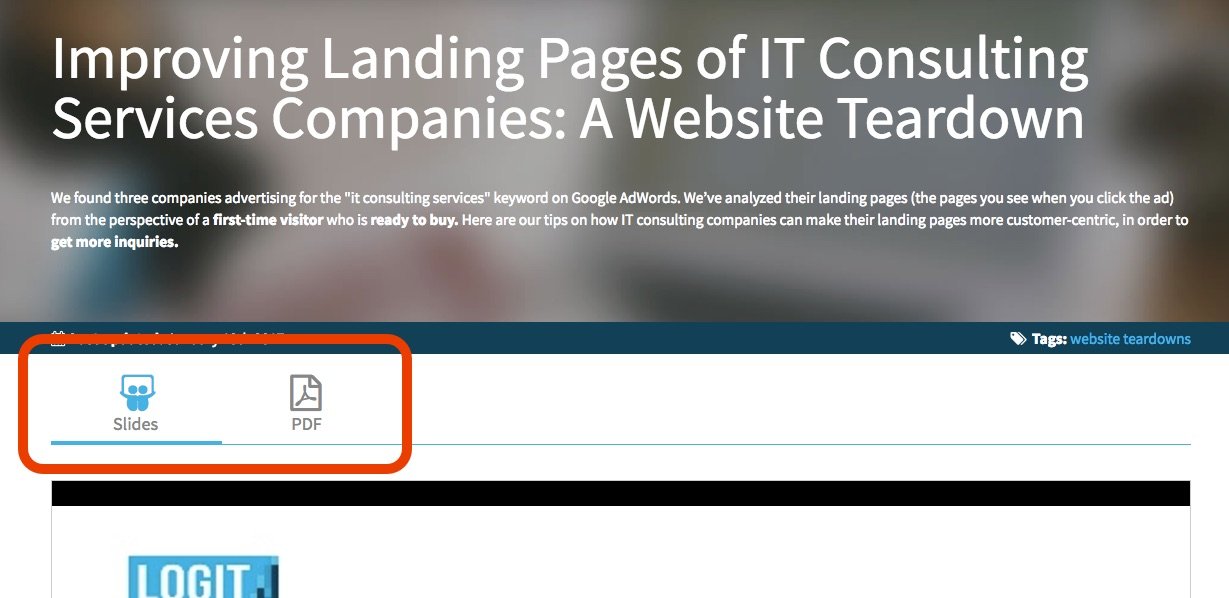 Format tabs will be present for content available in multiple formats.
Our intention is to publish our knowledge in various formats such as:
articles (short-form and long-form)
presentations, which you'll be able to browse interactively online (we're hosting them on Slideshare)
PDF files, which you'll be able to download instantly
images and infographics
videos, at some point in our future (video is something we still need to learn about)
email courses, for knowledge which is best presented in bite-sized email format
We'll repurpose our most popular content in several formats, so that you could choose the format you prefer.
What Kind of Content Can You Expect? 
Website Teardowns
Website teardowns are interactive presentations on a single topic.
In a teardown, we visually deconstruct random websites that we find online. Using concrete examples, we'll show you the many ways to improve those websites. We'll show you what's good, what not so good, and what you can do yourself on your own website. 
Here's an example slide from our first teardown called "Website Teardown: Improving Landing Pages of IT Consulting Services Companies", which you can browse now: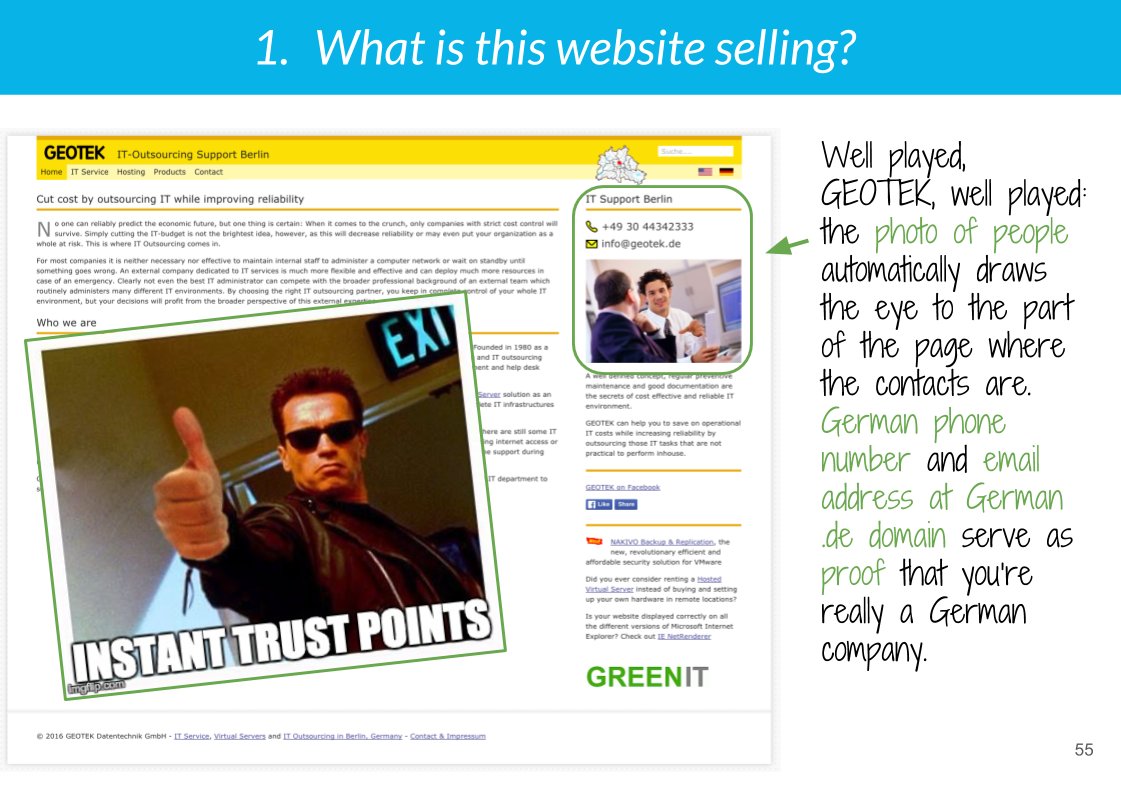 A slide from one of our website teardowns.
Website Improvement Guidelines
There are a million ways to improve a corporate website. However, certain flaws and imperfections are so frequent that we cannot help but to point out to them.
Here is an example of one of our articles focused on a specific guideline: "Link to Your Products / Services from Your News Articles".
Our clients can hire us to create a custom website improvement report for their website. Some of the guidelines we include in their reports you'll find here, in the Learning Center.
Website usability, architecture and content have been our obsession since the day we started this company 15 years ago, and we still see certain patterns repeat over and over on business websites. These patterns drive customers away, and we want to help B2B companies get more customers online. We can help, so we will help.
Original Research
We have already published our own research on our blog. We'll be moving that content to the Learning Center very soon. New research will be placed in the Learning Center from now on.
Go to the Learning Center Now
Bookmark this page: www.learn.net/learn/
And don't forget to subscribe to our newsletter if you want us to notify you when we publish more content here.