88% of B2B Websites Don't Link News and Products (But They Should)
Do you have a News or Articles or Blog section on your website? (our research shows that 54.5% of B2B companies have news sections)
Do you write about your products, services, solutions, or completed projects there?
Do you link from your articles to your products?
We've done more research of our own. We've analyzed 108 B2B websites and looked at the 5 latest product-related news in their "News" section.
What we found was this:
88,0% of researched companies forgot to link from a product news page to a product details page.
In other words: there's a huge disconnect between marketing (company blog) and sales (product details).
Your blog should be an effective tool for taking people from your blog to the pages where you do business (product details pages). The reason why you're blogging is because you expect your blog posts to assist in lead generation as much as possible.
Why Lack of Internal Links is a Problem
If you aren't seeing sales results from your blog, this unfortunate pattern is one example of the many little things that are derailing your sales.
Leaks such as this make websites lose sales and customers. A missing link here, a missing link there... Sooner than later, your website does not just leak: it bleeds.
First, think of a simple link as an added protection of your investment in writing that news article. If you don't insert an obvious link to the product page, visitors will probably exit your website when they're finished reading your article. You need to give them the next best link to click when they're done with your article.
Second, without an obvious link, your website visitors must work harder and longer to complete the task they came for, and that is to research your products and services so that they could make a purchase decision. If their research efforts don't produce results in a matter of seconds, most visitors will leave your website. Just take a look at your Google Analytics: the Bounce Rate report for your blog posts is probably over 90%. This means that 90% of website visitors did not click a single link in your blog post.
Very often, visitors leave the website because they don't know that there's more related content to read. Even if you do have links to related content, visitors will leave your site if related content:
is irrelevant,
is placed where visitors aren't looking, or
looks like an ad.
There are additional SEO benefits to linking to internal web pages from the blog. See this HubSpot article about SEO and internal links for more information.
(SEO - Search Engine Optimization - is a highly popular marketing discipline aiming to position your website high in search engine results pages.)
Ways to Improve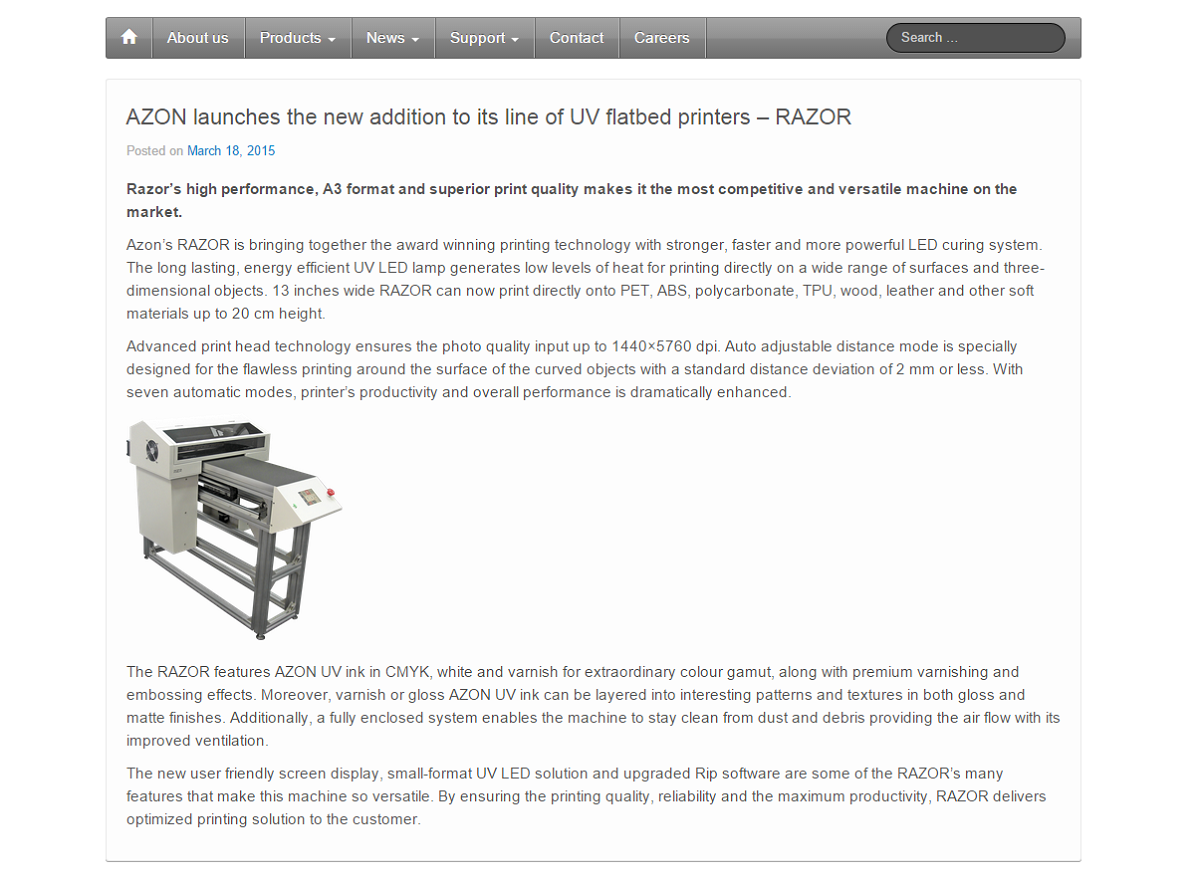 Azonprinter misses a great opportunity to link from the news article to the product details page.
Visitors are forced to find the product themselves, either by using the site search, or by figuring out how product categories are organized.
Granted, this website's navigation is not terribly hard to figure out, but we're encountering the same pattern on other websites which are way more complex.
Good Practices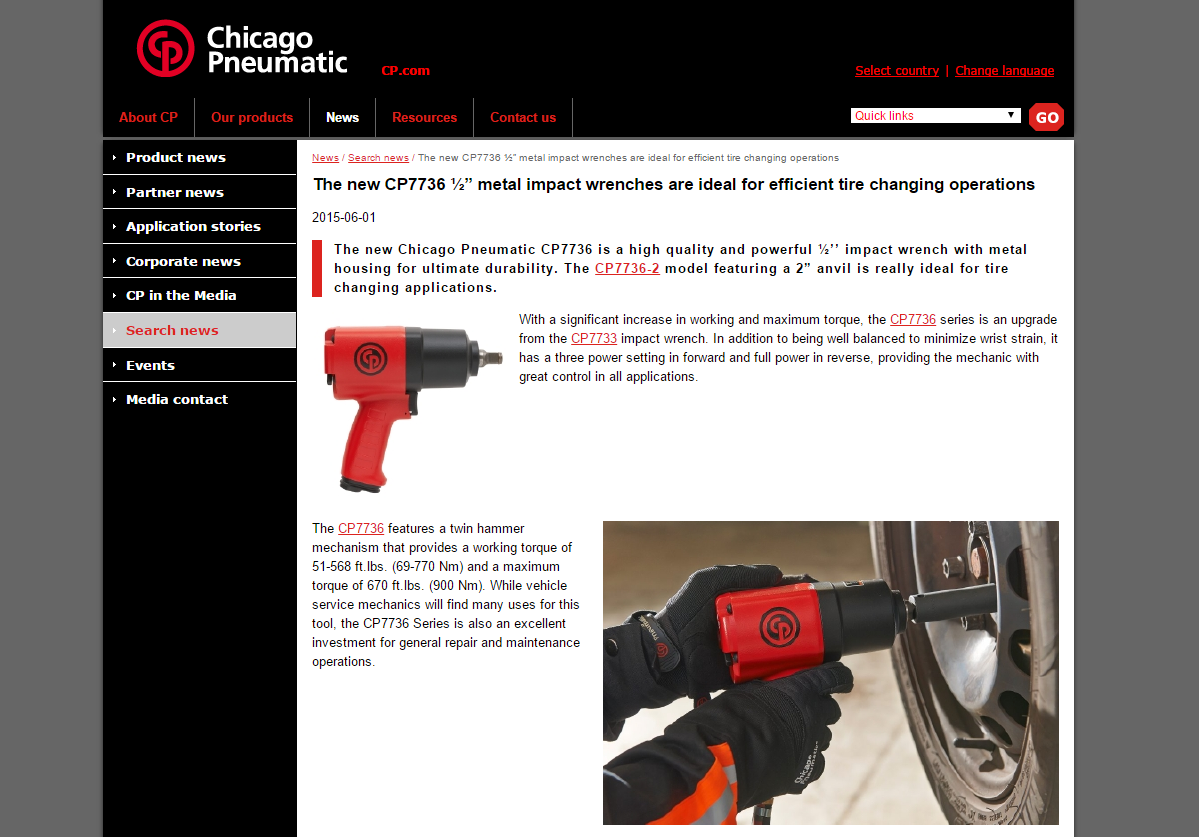 Capture Date: July 09, 2015
Chicago Pneumatic has links to the product pages of different product models mention in the news piece. Additionally, their links are easily noticeable, something we wrote about before. Their website visitors can easily jump to the relevant product pages without having to figure out the website navigation.
Internal Linking Guidelines
To improve your website's lead generation capabilities, when you write new articles or blog posts, always include links to other relevant parts of your website. For example:
link product news articles with product pages
link product news articles with case studies
link articles about new projects with customer pages in your portfolio
link products or solutions with related services
Edit Already Published Articles
Revisit all news articles where you wrote about your products, services or solutions, and edit in the links to relevant content. If there are too many articles, edit the last or the most popular 5-20 articles. Use your Google Analytics to identify the most popular articles. If you're still not using it, we can set up and properly configure Google Analytics for you.

In the article body, where you first mention the name of your product / service, select that product / service name and make it a link to the product's page on your website.
Upgrade Your Content Creation Processes
Educate your colleagues who write news to always include at least one useful link from a news article to your related content: products, services, portfolio, case studies...

Create a documented guide for writing company news, and circulate it among your colleagues. Research consistently shows that those who document their strategy are more effective in nearly all areas of content marketing. If you find this article helpful, feel free to use it as a starting point for your internal purposes.
Advanced Stuff (You'll Need a Programmer)
Consider programming a section with links to related content:
put it under the blog post (because that is where the eyes will naturally go)
If you're considering the sidebar for related content, make sure you first remove any promotional elements and ads from the sidebar. Content that resembles ads makes visitors ignore the entire sidebar (this is called "Sidebar Blindness").
References