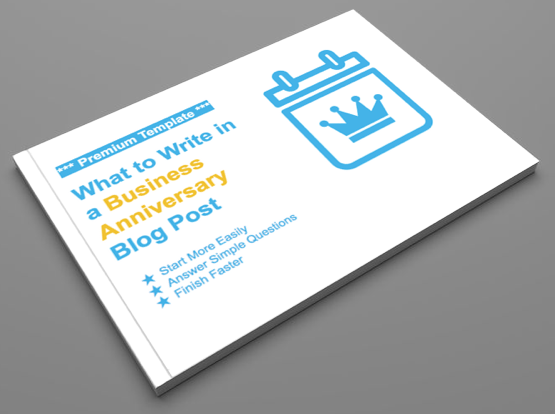 Your business anniversary is a rare, once-a-year marketing opportunity which you'll want to blog about. If you've never written a business anniversary blog post before or are struggling with deadlines, check out our premium downloadable worksheet. It will help you get started easier, finish faster, or even enable someone else to write the blog post instead of you!
Writing Is Demanding; Get Some Help
Business writing would be easy if: 
everyone knew what to write about,
everyone could dedicate enough time to a well-written article,
nobody every forgot to include key information in the blog post / news piece,
everyone knew the order in which to present information,
everyone knew how to write rich, simple, naturally-sounding sentences.
Because we see our clients struggling with content every day, we decided to help with our digital products for business content writers. We estimate that our templates, guides and worksheets simplify about 50% of your writing task because they help you come up with better ideas, quickly create helpful content outlines, and easily capture information.
What's the New Product?
Our latest product is the premium template / worksheet for writing business anniversary blog posts. Business anniversaries are important events which occur only once a year and therefore represent a rare opportunity for business marketers to promote their special day online.
The least you can do to celebrate your company birthday / anniversary is to a) blog about it and b) share the link to your blog post on your social profiles. However, knowing how busy marketing managers and business owners get, we know this opportunity is often lost. 
You can use our new worksheet to get help with writing a business anniversary blog post in two important ways:
#1 Figure Out What to Write in the Blog Post
About 20% of your writing effort goes to deciding which information to include in the blog post. What is important to mention? What are others writing about? Imagine if someone told you exactly what to write about in your blog post: wouldn't it be much easier to start writing?
This new digital product does exactly that: it gives you ideas about important topics for this particular article type. The worksheet is a collection of 18 crucial questions which will inspire you to write a professional, content-rich blog post.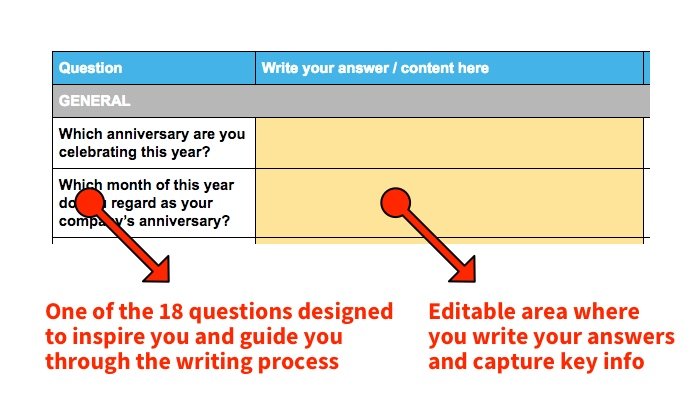 Sample from the worksheet: a table with questions which guide your writing process
#2 Create an Outline by Capturing Key Information in One Place
About 30% of your writing effort goes to gathering facts, information and data in one place. 
Our template makes outline creation and data gathering quick and simple: the worksheet is an editable Microsoft Word (DOCX) file in which you can easily write down key information. 
When you're done answering all the questions in writing, congratulations! You now have a helpful blog post outline which you can use to edit and enrich the blog post to completion. Half of your job is finished, and our premium worksheet has probably saved you an hour or two (or more).
Who Should Use This Template
You're a business writer who personally writes all content on your business website. The anniversary is approaching fast and you have little time to think about this particular blog post. Anything that would help you get the writing job done faster is worth your while.
Or, you're a busy manager / business owner who is the only person in the company with all the information about the anniversary, but you don't have the time to write the article yourself. Give the template to an employee and have them interview you for content gathering purposes, or write down your answers in the template and have someone else finish the blog post (now that they have all the information in one place). 
Start With the Template Today
To the Download Page
Click the button above to:
view page samples
find out what else is inside the template
instantly download the template