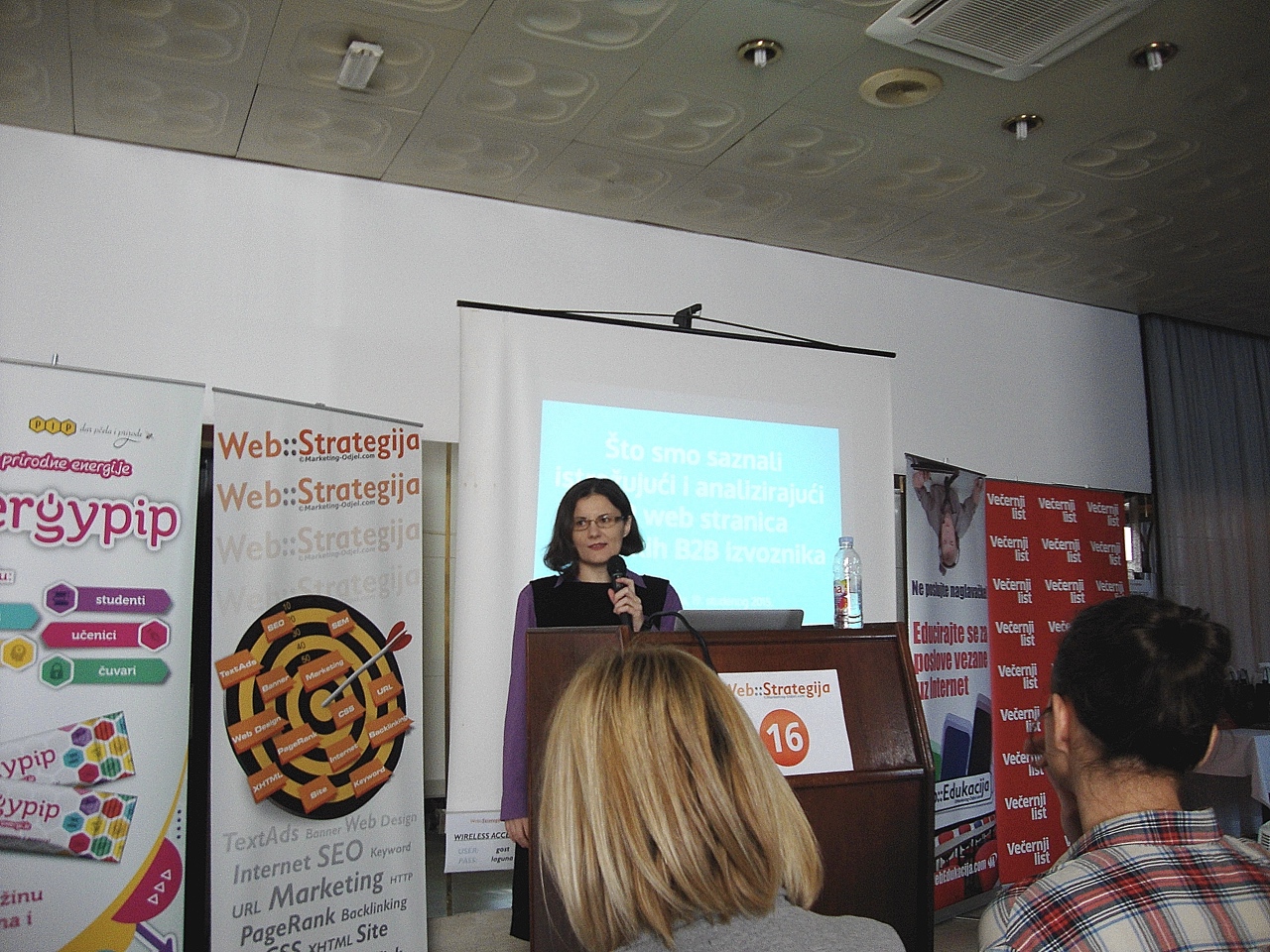 We were invited to give the keynote speech at the Web::Strategy 16 digital marketing conference. The conference took place on November 19th 2015 in Zagreb, Croatia.
Visnja Zeljeznjak, our senior digital marketing specialist, was invited by the Web::Strategy conference organizer to talk about our recent research of 189 B2B websites.
Here Are the Slides
Summary of the Talk
Visnja presented the key findings of our research:
Almost half of the analyzed websites lacked the foundations of digital marketing;
Up to 17% of analyzed websites lacked the basic website content such as "About Us", "Products", "Services", "Contact Us";
45-95% of analyzed websites lacked the advanced, influential content such as customer testimonials, case studies, industries section, articles.
Our most valuable insight was that too many B2B companies aren't using their websites as an effective sales and marketing tool. It seems that some companies do not know how to embed their website into their current sales and marketing processes, or what a website can do.
When we talked to some companies about our research, they said that they used their websites to increase their business image.
Some of those companies' websites, however, lack the very basic features that increase authority and trust. For example, too many companies forgot to publish photos of their managers, failed to publish their company email address, lacked detailed references...
Luckily, all of this means that there's huge potential for improvement. In her talk, Visnja suggested that we should all adjust our attitudes and put more emphasis on the philosophy of small but continuous improvements.
Continuous Website Improvement Service
There's now a specialized service for continuously improving your online business so that it attracts more customers. This service is called B2B website improvement reports. We've designed the service for companies that depend on their websites for generating new leads and supporting various sales functions such as:
increasing product / service awareness
teaching customers about the problems your product / service solves
helping customers evaluate your products / services
helping customers buy your product / service
supporting customers after the purchase has been made
Learn More About the Service