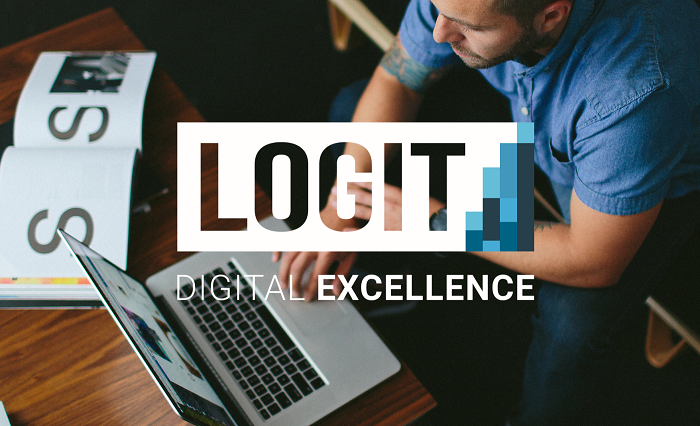 Logit is now a digital marketing consultancy helping established manufacturers of B2B products and providers of professional B2B services get more customers online. The new services include website improvement reports, consulting, and complete digital marketing management. To mark this milestone, we rebranded and launched a new English-speaking website.
We're announcing the biggest change since we incorporated in 2002:
"logIT the web development company" is now "Logit the B2B digital marketing consultancy". 
We have a lot to explain with this change, so let's explain one at a time. 
But first, let's make one thing clear:
We'll Keep Supporting Our Existing Clients
For as long as we can, and for the widest range of our old services possible, we'll keep working with our existing clients. Some of you have been with us for a decade or more.
This means that your websites won't be affected and that we'll continue maintaining our servers and our legacy code base. If you're on a paid support contract, you will continue to receive support. If you have a domain, a hosting plan, or a CMS license with us, you will continue to use those without the change in terms of service. 
Should any of this change in the future, we'll recommend the best available technical and business solution for your particular situation.
Contact Logit support if you're an existing client and have questions about this. 
We Offer Different Services Now.
Between 2002 and 2015 we were a web design, web development, and internet marketing studio / agency. (See the timeline of Logit history).
Times are different now. We're different. We've realized we have something to offer to the world that goes far beyond "just" building a website: expertise and experience in sales and marketing. Technically speaking, building websites may have changed since 2002, but one aspect we're most experienced with has never been in more demand: the importance of the internet for generating business results.
Thus, our evolution was inevitable. From now on, we'll be helping experienced companies generate business results. We'll help them improve their online presence by providing the following services:
Yes, we'll continue to build new websites - mostly for existing B2B clients. There is no digital marketing without a website, and anything website-related remains our core competency.
Our Products
In March 2016 we launched our first product:
This guide helps people in charge of writing website content write persuasive and customer-centric content on their own, without hiring a professional copywriter. It makes the content creation process easier and saves dozens of hours. All you have to do is answer the questions from the guide and those answers become your content.
We Will Be Focusing 
on the 
B2B (Business-to-Business) Segment Only.
In the past we thought that a small website development agency should be everything to everyone. 
(In a way, doing business in a tiny market forces you not to be too picky.)
When you develop websites for all industries, you spread yourself too thin and across too many custom-developed software solutions. We programmed content management systems, eCommerce solutions, corporate websites, B2B websites, news engines, travel booking platforms, and everything in between.
But the word focus means choosing one thing only. And we decided to go with B2B only. More specifically, we'll be working with manufacturers of B2B products and providers of professional B2B services.
We've got the experience. We've got the software to put our B2B clients online. B2B is, after all, the segment we do business in ourselves.
It has never been a better time to help B2B companies thrive online. We're so excited about what we can do for our B2B clients.
We Will Be Focusing on Mature Companies Only.
In the past three years we took enough time to examine our existing client base. One pattern emerged: our best existing clients were mature, experienced, stable businesses. 
When I say "best", I mean that our agency-client relationship was friendly, healthy, pleasant, and mutually profitable. This was hardly a coincidence. The business we were in and the business we wanted to be in requires strong businesses on both sides of the relationship.
To spare you the further details, let's just say that we designed our new services to fit the needs of mature B2B businesses. Those businesses are focused on growth rather than on bare survival. Those businesses are capable of turning the unique value we bring to the table into growing their sales. Growing sales using digital tools is what we do well, so this is what we'll do in the future.
We'll Be Speaking English From Now On.
When you decide to focus and specialize, doing business in a tiny market no longer makes much sense.
(We don't do regrets. But if we did, we'd regret not doing this in 2002. Oh well.)
There's so much we can offer to the big world out there. The big world does not speak the language of our tiny country.
Therefore, our company's website logit.hr stops speaking Croatian, effective immediately. By launching this website, we've made hundreds of content pages in Croatian language vanish - the content that was once our bread and butter online!
The future editions of our newsletter will be in English.
The new content sections that we're launching soon will be in English (you're going to love those, we promise!)
We Look Different.
We rebranded to mark this milestone in our history. (If you're hearing about us for the first time, take a look at the timeline of our 15-year history where you can see the older versions of Logit).
We love our new brand because we've embedded our past, our presence, and our future in it (it's hard to see all of that unless you read the whole story of the new Logit brand).
We Have a New Website.
We're not done with it yet, but there are already many new things for you to check out:
our new services for our new and existing clients
our newsletter, where we'll publish tips for improving your B2B website
this blog you're reading, where we'll publish company news and announcements. The educational part of our content is coming soon (mid-August).
For the technically inclined: this is the first incarnation of the logit.hr website that runs on open source software. We chose the latest Django CMS as our platform and now that we're accustomed to it, we'll continue building our clients' B2B websites with Django CMS. It's pleasantly flexible, capable, and developer-friendly. I don't think we're going back to writing our own CMS any time soon (more like NEVER). We'd rather continue contributing to an open source project.
We Moved to a New Office in Rijeka, Croatia.
Since April 2015 our Rijeka office has a new address: Radnicka 45. Read the blog post. We love it here: it's spacious and bright. 
Our Zagreb office remains in the same location in Balotin prilaz 4, Zagreb. Visit our Contact page for more information.
EDIT: Our Zagreb office is moved to a new address: Ulica Ivana Sibla 15.
Some Things Don't Change
The core Logit team has been together since 2007. We've even got new arrivals in our marketing and software development teams.
We're still dedicated to excellence. Excellence makes everything else happen for a company. 
Come Join Us for the Next 15 Years
Get in touch with us. Just to say hello. Just to point to something that caught your eye on our new website (good or not so good).
Thank you for reading.
Visnja Zeljeznjak,
Co-founder of Logit