In the last couple of months, we have analyzed hundreds of websites belonging to B2B companies that are exhibiting at large international trade shows. We wanted to measure how well prepared their websites are for tracking website visitors and measuring results after the end of the trade show. We were testing for the presence of Google Analytics on their websites, and here are the results of our research.
Why Should Trade Show Exhibitors Have Google Analytics Installed?
Trade shows are great for creating relationships with your prospects, but that relationships should be nurtured after the trade show, until the prospects are influenced enough to decide to buy from you.
One way to nurture those relationships is by having a user-friendly, highly informative website that will easily turn your prospects into your customers. We already wrote about improving your website before exhibiting at the trade show.
Google Analytics is the world's most popular digital analytics software. It gives you the evidence you need to make smart marketing decisions. For example, it shows you:
increases in website traffic during and after the trade show,
whether the visitors download your brochures or not,
which website content

trade show attendees

read the most,
and many other relevant data.
What We've Learned from Analyzing 1500+ B2B Websites
All of the analyzed websites belong to companies that were attending or will attend the following trade shows:
The exhibitors were from the following countries:
Northern Europe (Sweden, Norway, Finland, Denmark, Ireland, Latvia)
Eastern Europe (Poland, Czech Republic, Hungary, Romania)
Western Europe (Austria, Belgium, France, Netherlands, Luxemburg, Switzerland)
Southern Europe (Italy, Slovenia, Cyprus, Greece, Bulgaria, Spain, Portugal)
Germany
UK
USA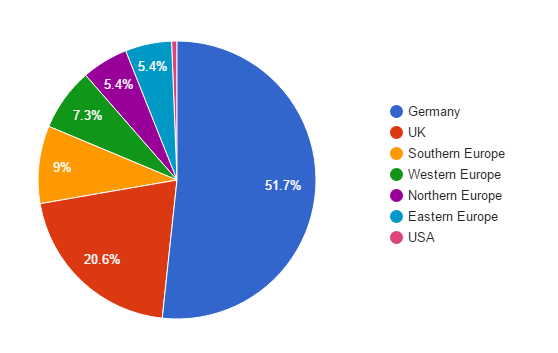 Our analysis covered a number of industries:
building and construction
interior decoration
industrial products
environmental protection
industrial automation
In our analysis, we focused on Google Analytics because it's the most popular digital analytics software in the world. According to Datanyze, 78.1% of websites that use digital analytics software, use Google Analytics.
We grouped all websites by the trade show and analyzed the presence of Google Analytics on websites for each trade show individually. There are noticeable fluctuations in the percentage of exhibitors without Google Analytics at each trade show.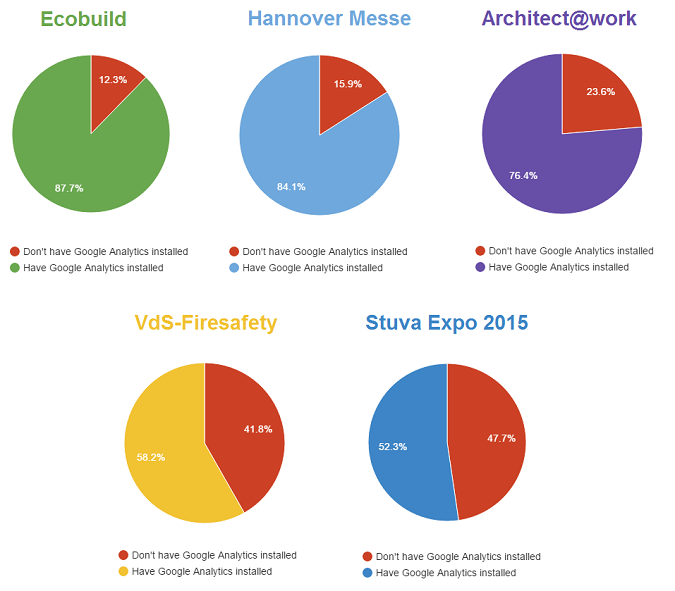 Lack of Google Analytics varied from 12.26% to 47.68%.
For example, most exhibitors of Ecobuild had Google Analytics - only 12.26% of them lacked Google Analytics on their website.
15.94% of Hannover Messe exhibitors, 23.64% of Architect@work exhibitors, and 41.77% of VdS-Firesafery exhibitors didn't have Google Analytics installed on their website.
Stuva Expo had the highest percent of exhibitors without Google Analytics - 47.68% of them didn't have Google Analytics installed.
It is obvious that most companies embraced the digital era and have the basics for making profitable marketing decisions. However, a certain percentage of companies without website analytics software are at a disadvantage compared with most other trade show exhibitors that have Google Analytics. Exhibitors who do have Google Analytics are able to track how successful their marketing activities are.
Don't Have Google Analytics? Get It Today.
You need properly configured Google Analytics to be able to collect valuable data and create reports that will help you avoid making expensive marketing decisions.
If you don't have Google Analytics installed, or if you want someone to properly configure your existing Google Analytics setup, our skilled professionals can configure it and show you how to use it to your advantage with our Google Analytics Integration service.
Once you get Google Analytics, this is the kind of data you'll be able to analyze: (presentation, 19 slides)