On June 8, 2016 at the Step Ri science and technology park of the University of Rijeka, Logit held a free 2.5-hour workshop on writing content for business websites. Judging by the overwhelmingly positive reviews and the many suggestions that the attendees gave us, writing website content is a highly popular topic which needs more attention. That's why we decided to organize more content writing workshops in the near future, and in the meantime, find out more about the workshop.
In our experience, companies are struggling with writing content for their business websites. Small company CEOs and marketing and sales managers are either too busy to devote enough time to website content, or lack the hands-on experience to write the kind of content that sells.
This is why we decided to organize a practical content writing workshop that would teach entrepreneurs, company owners, marketers and salespeople how to write compelling content more quickly and easily.
Mrs. Jana Blazevic Marcelja and Mr. Boris Golob of the STEP RI Science and Technology Park of the University of Rijeka, Croatia helped us tremendously in organizing this free workshop on their premises.
Visnja Zeljeznjak, our specialist with more than 16 years experience in writing website content, taught the 22 attendees how to think about content creation. Judging by the overwhelmingly positive reviews and the average workshop rating of 4.9, Visnja succeeded in deconstructing the tough subject of 'writing customer-centric content'. She showed the attendees what 'writing persuasive website content' really means, and which factors make a piece of content persuasive. Her many examples were based on her own content writing practice and on actual client projects.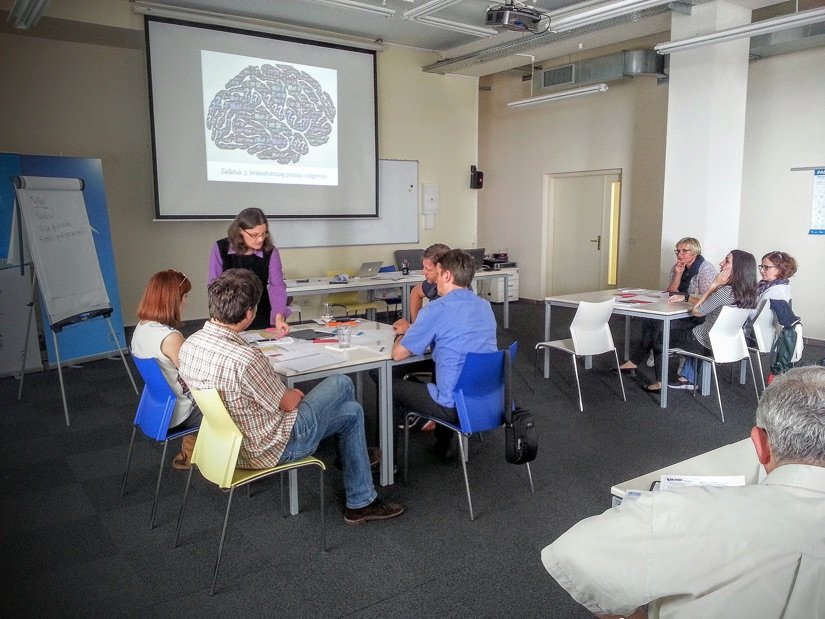 Practical content writing exercises in small groups
Contents of the Website Content Writing Workshop
The workshop was divided in two parts: the theoretical part and the practical part. Here are the topics that were covered:
What do people struggle with when they write website content, and why?
How problems with content negatively affect your business?
Who has problems with content and how do we know this is a fact?
Solution: learning to write customer-centric content
Components of customer-centric content
Workshop: learn to write customer-centric content
How to organize writing content in your company when everyone is too busy to write
In a relaxed atmosphere, the attendees practiced writing popular forms of B2B website content, such as case studies and news articles. The content they practiced on contained the 'before and after' examples and content improvement tips. Visnja talked about the most common mistakes in writing popular content. 
The most demanding exercise was writing an actual case study from scratch. Normally, this would have been an assignment too tough for the many attendees who have never written a case study before. However, Visnja brought helpful worksheets with questions that guided the writers in writing their case studies. All the worksheets for writing case studies were taken from the B2B Website Content Writing Guide, a digital product which Logit designed to speed up the content writing process.
Huge Interest for the Content Writing Topic
In less than 24 hours after Step Ri had sent out the announcement about the workshop, more than 50 people have applied to attend, but the workshop could accept only 24 people.
That's why we decided to devote more attention to teaching entrepreneurs how to write website content. Starting in fall 2016, we plan to organize additional seminars and workshops, and not only in Rijeka. (Update March 2017: read about our second workshop on making business websites customer-centric.)
You should subscribe to Logit newsletter if you want to receive a notification when we have a new educational event.