Your educational event - conference talk, workshop, seminar, presentation or a lecture - was a success? Publish a blog post or a news article about it on your business website, it's a great content marketing opportunity! This worksheet with word-for-word examples will help you lay out and write a content-rich article fast.
To help you write a high-quality, content-rich blog post in half the time it usually takes most people to write a blog post, today we're introducing our newest digital template for website content writers!
What to Write in a News Article about Your Speaking Engagement [PREMIUM TEMPLATE]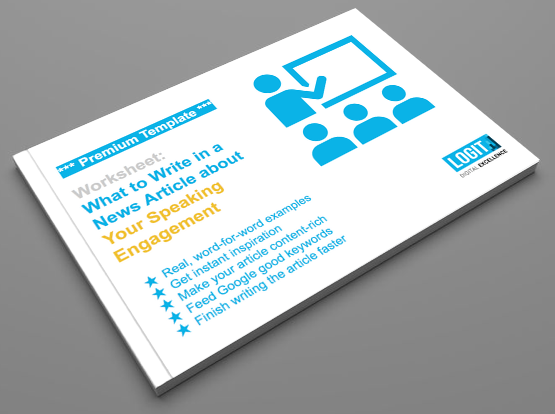 You probably know by now that publishing simple business blog posts helps you generate new sales. 
One type of business blog posts are announcements about your speaking engagements such as conference talks, workshops you organized, seminars, presentations or lectures. You know, posts such as this, this, this, or this.
A speaking engagement is a great authority-building opportunity which you should write about. However, if you don't publish your blog post soon after the event has taken place, the marketing potential will be gone forever.
Get Template Now
Who Should Download this Template
Small business owners and managers who write content for their website
Website content writers facing deadlines and lack of inspiration
Anyone who struggles with business blogging